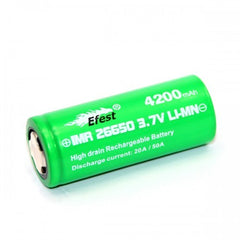 Efest (Green) IMR 26650 (4200mAh) 3.7v 50A Battery Flat-Top


The Efest Green 26650 4200mah 50Amp Batteries are the newest in the market that comes with longer lasting Battery Life. Compared to the purple 26650 that comes with 3500mah, this battery can help you vape even longer throughout the day. This battery is perfect to use with any 26650 mechanical mods. These batteries are 100% authentic and genuine.
Efest Green 26650 4200mAh Battery Features:
Capacity: 4200mah

Cycle Life: 300 Times

Top: Flat Top

Bottom: Non-Protected

Diameter: 26.22mm

Length: 65.11mm

Discharge cut-off voltage: 3.0V

Voltage: 3.7V 

Full Charge voltage: 4.2V

Temperature range: -20~+60 ºC

Monthly Self-discharge rate: ≤ 0.5%

Discharge Temperature Range: -20~+60 ºC 
To ensure your safety and maintain the battery's life and durability, we recommend you follow these rules:
Do not over-discharge or overcharge the battery. Doing so will shorten the battery's life and sometimes, it can make it pop or leak.

Please do not short circuit or it will release massive current.

Do not play with fire! Do not dispose any kind of battery in or near any fire.

Do not stack more than one battery as it may potentially blowout and cause serious damage to yourself and place. Notes: We do not recommend stacking more than one battery in your device because it may potentially blowout and cause serious harm.