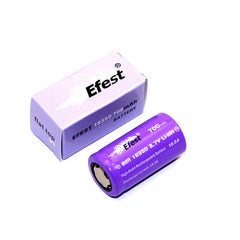 Efest (Purple) IMR 18350 (700mAh) 3.7v Battery Flat-Top
The Efest :Purple 18350 IMR 700mAh 10.5A Flat-Top Battery is one of the best batteries for the Mechanical MOD / Rebuildable Atomizer / sub-ohm user.

Safe chemistry LiMN 3.7V rechargeable high drain batteries do not require a protection circuit and they also have a reduced risk of venting with flame or explosion.

Not only are these the safest batteries available, they also perform better for a longer period of time.
Can be charged with any Li-Ion battery charger with 4.2V output however, for best battery life we recommend charging with a Smart / Intelligent Charger.
Price is for one (1) battery.