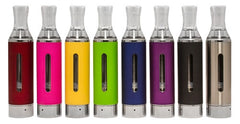 Kanger Evod Clearomizer
The EVOD is a bottom coil Clearomizer tank system by Kanger. It features replaceable atomizer heads and has an eLiquid capacity of 1.6mL. 
Bottom coil clearomizers provide a nice warm vapor, with a superb clean flavor, and reduced wicking issues.
Unlike other Clearomizers, the mouthpiece of the EVOD is permanently attached and it is filled from the bottom. This two-piece design is a major advantage over other tanks with replaceable atomizer heads. If the EVOD atomizer head fails unexpectedly and the tank is filled with eLiquid, the atomizer head (base) can be easily replaced without the need to drain the eLiquid from the tank first. 
To fill the EVOD unscrew the bottom atomizer head.  Hold the tank upside down and fill the area around the center post with eLiquid.  With the tank mouthpiece-end down, screw the atomizer head back on.  
Specs:
Liquid Capacity: 1.6ml

Thread: eGo

Atomizer Type: Replaceable Bottom Coil

Resistance: Comes with 1.8 ohms(great for standard 3.2volt-4.0volt batteries)

Length: 60mm (2.3 inches)

Diameter: 10.6mm (.41 inches)

Available Colors: Black, Blue, Red, Stainless, Pink, Purple, Yellow, Green

Replacement Heads available with

coils in higher resistance, to allow for higher voltage batteries.
How to Replace the Kanger Evod Clearomizer Coil:
1. Detach the clearomizer from the battery.
2. Turn the clearomizer upside-down, so that the mouthpiece is pointing towards the floor.
3. Unscrew the base from the body of the clearomizer. The base is the metal part that screws onto the battery.
4. The atomizer head will be the long, thin part that is attached to the base that you just unscrewed. Unscrew the head from the base and throw it away.
5. Screw on a new atomizer coil securely onto the base.
6. Screw the base back onto the body of the clearomizer.
7. Screw the entire clearomizer back onto the battery.
8. Vape and enjoy! 
Important Note:
This Clearomizer is designed to fasten onto the outer cone threads of an Ego battery. It is NOT 510 threaded.
To use with a 510 threaded MOD like the Zmax, iTaste SVD, Smoktech SID, etc... you will need a 510-to-Ego Adaptor. Even if your MOD has Ego threads, they may or may not be deep enough to make contact. We strongly suggest purchasing the adapter if you intend to use this Clearomizer with a MOD.