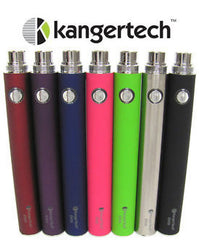 Kanger Evod Battery (1000mAh)
KangerTech EVOD 1000mAh Battery
Genuine KangerTech e-cigarette battery.  These are rated at 1000mAh and can last up to 8 hours on one charge.   
Features a 510 connector with eGo threading to ensure maximum compatibility. Use a standard eGo charger to charge these.
These feature 5-click protection.  To shut off the battery, simply click the button 5 times quickly and you'll see the LED flash a few times. Very handy if it's placed in your pocket or purse.  Click 5 times to turn back on.