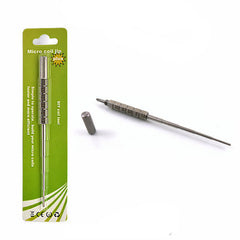 Micro Coil Builder Jig plus Screwdriver
This upgraded version of the Micro Coil Jig, is a compact and handy device for vapers who prefer building their own coils.
The coil tool is easy to use: using the numbered guide on the handle of the tool, simply select your preferred size from five different diameters and begin wrapping until you have achieved the desired number of wraps.
There are 5 diameters you can choose: 1.5mm, 2.0mm, 2.5mm, 3.0mm, 3.5mm.
This device even has a small Phillips head Screwdriver built-in, to help attach your newly built coils to RDA/RTA posts.  Just unscrew the handle.